Do more people watch or listen to the ATC Doublecut?
In autumn of 2021 I started The ATC Doublecut with Micah Woods, a show where I talk about turfgrass topics that I've found interesting enough to write about.
It's been 9 months and 50 episodes now. For the most recent 45 episodes (those released since 1 December 2021), I took a look at the number of views each episode got on YouTube, and at the number of downloads (listens) each podcast episode got.1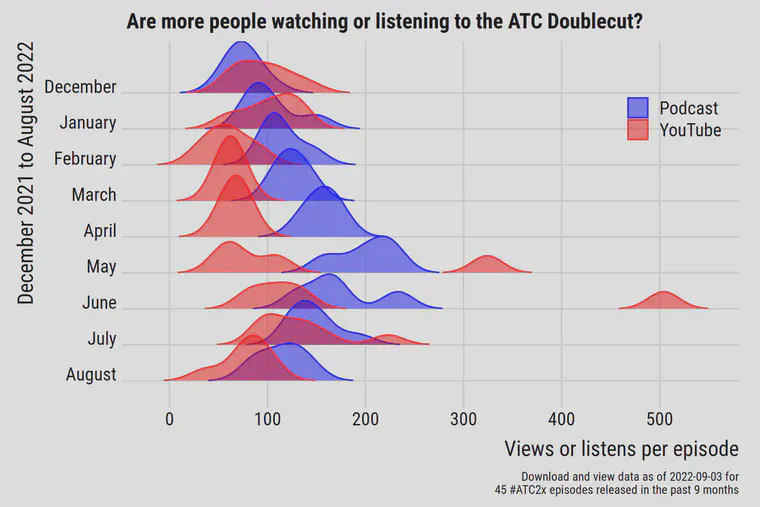 For the first two months of the show, YouTube and podcast listens were similar. Since February 2022, the podcast version of the show is getting more views. You'll see that in May and in June and in July, there were episodes that got relatively high views on YouTube. Because YouTube has such a large potential audience, there will be some topics that reach more people through that platform.
YouTube episodes are getting about 100 views, and podcast episodes are getting 100 to 200 listens. You'll see in the chart above that there is a bit of a lag especially in podcast listens. The chart shows a peak in listens in May, with a declining trend through June, July, and August. That may be because fewer people listen to each episode in those months. I expect that the trend seen in those data are also due to listeners not listening to each episode immediately upon release. Perhaps the June, July, and August numbers three months from now will increase while the May data have already peaked?
When I add the number of views (YouTube) and downloads (podcast) for each of the past 45 episodes, the median is 213 and the mean is 235. For comparison, the average blog post in 2021 had a median of 208 pageviews and a mean of 334 pageviews. Those medians are pretty close right now. I'll be interested to see in the future if and how those numbers change.
---
The views and the downloads are "starts." Not everyone who starts watching or listening to an episode will finish it. ↩︎