Five short seminars on exciting topics
On November 2 & 3, I'll be at the Portuguese Greenkeepers Conference in Porto. You can register for the conference at the APG website.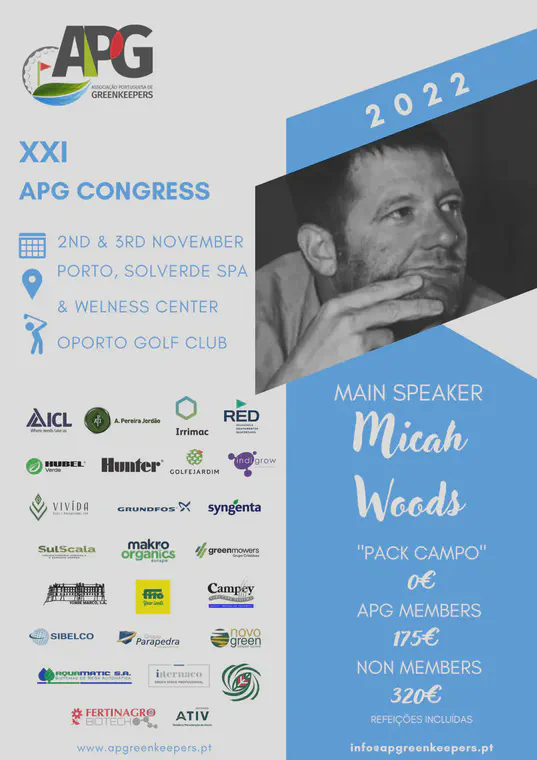 Here are three quick notes.
1. The five exciting topics I'll be discussing
I'm going to lead a series of short seminars at the conference.
MLSN: a modern approach to turfgrass nutrition will give another explanation of topic, showing how this method can simultaneously provide all the nutrients the grass can use, assuring there will be no nutrient deficiencies, while also being substantially lower in some elemental recommendations than other methods used for fertilizer recommendations.

Growth rate is connected to everything, and clipping volume (#ClipVol) is an easy way to put a number to the growth rate. With the measurement of clipping volume, one knows how much aboveground growth has occurred.

How much sand topdressing is necessary? Well, that depends on how much the grass has grown, both aboveground and in the soil. Grass that doesn't grow won't have much of a topdressing requirement. Grass that grows a lot needs more sand. It's possible to work this out for a site specific topdressing requirement, and I find it really useful to measure the aboveground growth (ClipVol) and the belowground growth (#OM246) to find this quantity. I'll explain how to do that.

Playing conditions around the world are influenced by a lot of things, among them the growth rate (see above) and the amount and methods used to supply sand topdressing (see above). I'll share some case studies and some observations about how these are linked together, and I may also discuss the types of measurements that I find most useful to check the results of all the greenkeeping work.

A hypothesis concerning the most sustainable grass for a location—my hypothesis links grass species (or varieties) to the growth rate and the playing conditions. In short, I expect that the most sustainable grass is the one that at that location provides the desired playing conditions while at the same time growing at the most rapid rate for each unit of N and water applied. I'll discuss this and how it relates to greenkeeping in Portugal, Europe, and the world.
2. Will I see you there?
When I spoke at the Portuguese conference in 2017, I met delegates from all parts of Portugal, and even a few who had traveled from the Czech Republic, from the UK, and from Spain. It's not too late to register, and these topics are exciting and the venue looks amazing, so I hope you'll consider attending.
3. Ranking the best conferences
One of these days I'm going to do a blog post about the best greenkeeping conferences. In my line of work, I've ended up participating in quite a few of them. And why does a ranking of best conferences come to mind when I think of this upcoming event in Portugal? I leave that as an exercise to the reader.