Mowing patterns & grass color
Did you watch the Masters Tournament in April? Did you notice the immaculate appearance of the wide fairways? Please have a look at the photo below, taken from behind the 9th green during one of the practice rounds of the 2009 Masters Tournament. Do you notice a color difference between the 1st and 9th fairways?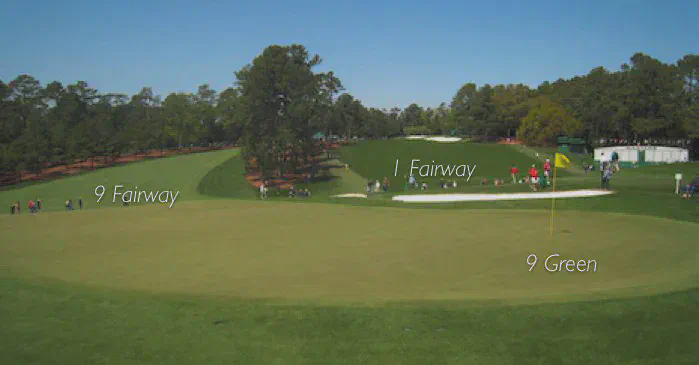 The reason for the color difference is the mowing pattern; for the Masters Tournament, mowers drive in the direction from green to tee, and this causes a slight leaning of the grass blades, and then there is a noticeable color difference in the grass.
Why do I mention this? To emphasize the importance of having a well-considered mowing program. The way the grass is mowed has a huge impact on the appearance of the golf course. Grass may not be perfect, but if the mowing program is planned to accentuate the appearance of the grass, then the course will look better. It is possible to make the grass look greener without using more fertilizer, appear weed-free even when there are some weeds, and to emphasize the fairway or the rough or other areas of the course, all by implementing an effective mowing program.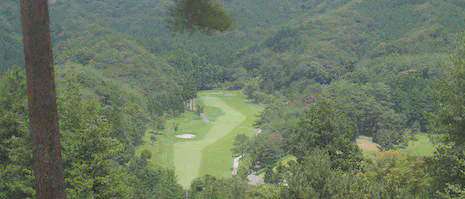 This is the 2nd hole of Kentos Golf Club in Tochigi-ken, Japan. This mowing pattern emphasizes the center of the fairway as an aiming target, saves mowing time (perhaps 20% time reduction at the average facility), and in this case the left side of the fairway is mowed from tee to green, while the right side of the fairway is mowed from green to tee.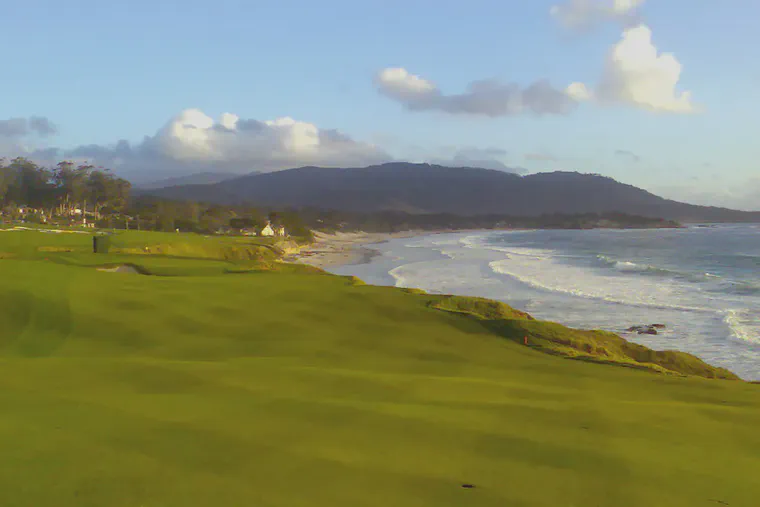 Here we see the 9th hole at Pebble Beach Golf Links in California, where a diagonal or "diamond" mowing pattern is used. This pattern takes skilled operators to implement, and it takes more time to mow the fairways in a diamond pattern, but it can create a visually stunning fairway appearance.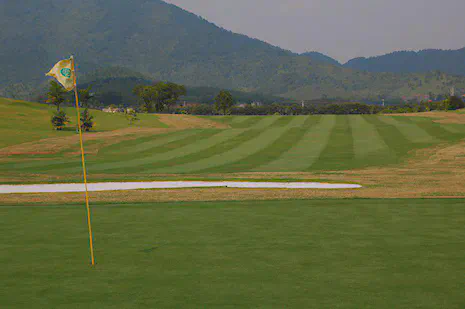 Above we see the 18th hole at Hanoi Golf Club in Vietnam. This is what I call a "zebra" mowing pattern, and is one that is often used on courses in Asia.
The important thing to remember is that the way grass is mowed has a tremendous impact on the visual appearance of a golf course and the golfers' perception of the course. Below we see a beautiful golf hole with an unclear mowing pattern in the fairway. The grass is mowed, and the playability is excellent, but there is not a striking mowing pattern. Any small imperfections in the grass could be overshadowed by a clear mowing pattern. I hope you will think about the way the grass is mowed at your facility, to make the most efficient use of your mowers and at the same time optimizing the visual appearance of your grass.