Thatch control by burning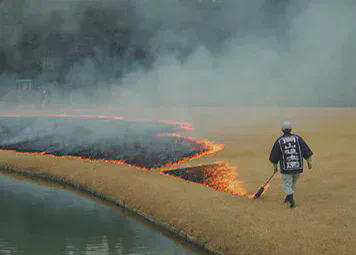 This photo is of the shiba-yaki ceremony at Korakuen Garden (後楽園庭園) in Okayama, Japan. This is some of the most beautiful noshiba grass (Zoysia japonica) I have seen, maintained using traditional and simple methods.
One of those traditional maintenance practices is the burning of the dormant grass each winter. This burning improves the quality of the turf in the upcoming growing season. Burning the stems and other organic matter at the surface helps to reduce thatch buildup, creating a firmer surface. Weed seeds are destroyed by the heat of the fire. And burning the dormant turf also creates a natural fertilizer, with the mineral elements from the ash left to nourish the grass as it grows in the spring.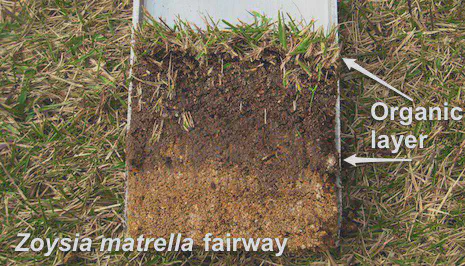 The photo above shows the layer of organic matter that builds up naturally near the surface of a turfgrass stand. This is a ten year old korai (Zoysia matrella) fairway in Western Japan. The organic matter buildup can cause problems with turfgrass quality because of too much water retention in the organic matter and a number of other problems associated with excessive organic matter. Removal of organic matter can be an expensive and time-consuming process; burning the turf when it is dormant is not expensive, but this traditional maintenance practice is not used frequently because of safety regulations. Also, most golf courses remain open during the winter, and a recently burned turf does not make a good playing surface for the average golfer.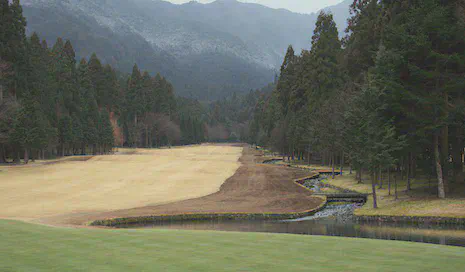 This is the fourth hole at The Cypress Golf Club in Hyogo prefecture in early March. The noshiba rough has been recently burned, the creeping bentgrass putting surface is still green through the winter, and there is a dusting of snow on the mountains. Another advantage of burning the turfgrass is the dark color it gives to the ground. This will increase the soil temperatures during the spring and will cause more rapid growth of the grass when it does come out of dormancy.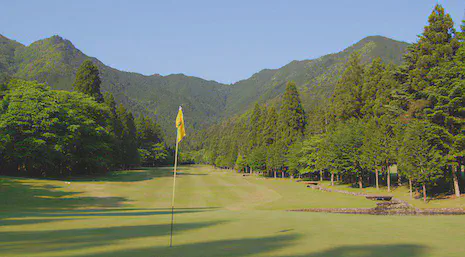 Now we see the same hole at The Cypress Golf Club in May. The noshiba is growing well, the thatch has been reduced, and weeds are not a problem. The traditional burning of dormant zoysiagrass is not practical at every location, but the importance of organic matter management remains no matter where you are. If you cannot burn the grass, then consider other methods to manage organic matter accumulation: apply optimum amounts of fertilizer, verticut as necessary, dilute the organic matter with sand topdressings.