A fascinating tour of courses you might not otherwise see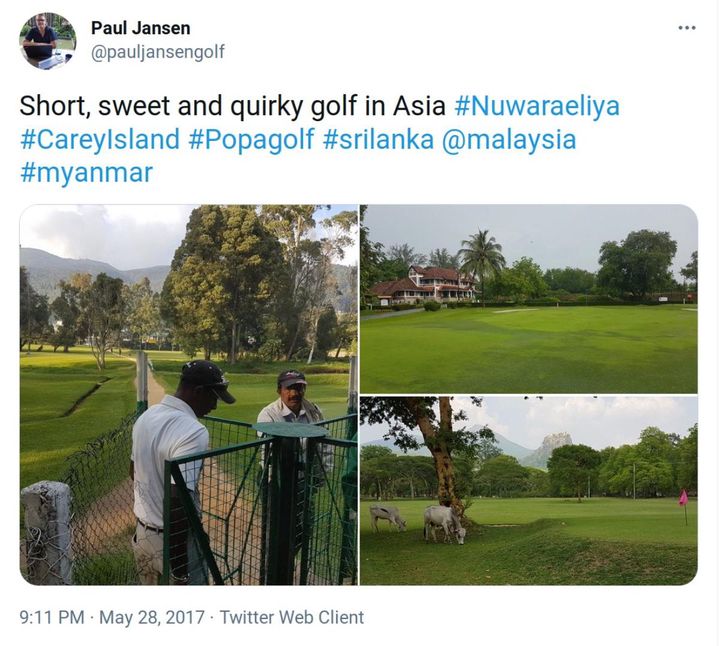 Golf architect Paul Jansen is in the midst of what he calls the Sustainable by Design tour. He is making an intensive tour around South and Southeast Asia, visiting and studying some of the most interesting places and golf courses. And he is documenting this as he goes along, with photos, writing, and videos.
What kind of places is he visiting? Do you recall Nuwara Eliya? C.V. Piper wrote about the club in Turf for Golf Courses. When Piper visited, the course was already 22 years old! And that was 116 years ago. How good is the turf at Nuwara Eliya today? Pretty impressive. The fairways are primarily narrowleaf carpetgrass (Axonopus affinis) and kikuyugrass (Pennisetum clandestinum), and Paul has shared some stunning images of the fairways at this club that was founded in 1889.
Nuwara Eliya GC - Hole 4. Hit over main road to common land. Main hazard include humps, water, road, people, trees, green 11 pic.twitter.com/KlPgm7gfvz

— Paul Jansen (@pauljansengolf) April 20, 2017
I find it especially interesting to follow this tour. Some of the reasons include:
reading (and seeing) a golf course architect's perspective on a wide range of courses
seeing a sampling of the variety in courses in South and Southeast Asia
seeing the different grass types and the playing surfaces that are produced
learning what works, and what is unique, at so many different courses