Ten posts that no one read in 2017
These are the posts with the lowest pageviews this year
I've written more than 100 blog posts this year. A few of them were read by many – hundreds, and for a few posts, more than 1,000 – people. The median post from 2017 got 184 pageviews. The middle 50% of the posts had pageviews from 112 on the low end to 299 on the high end.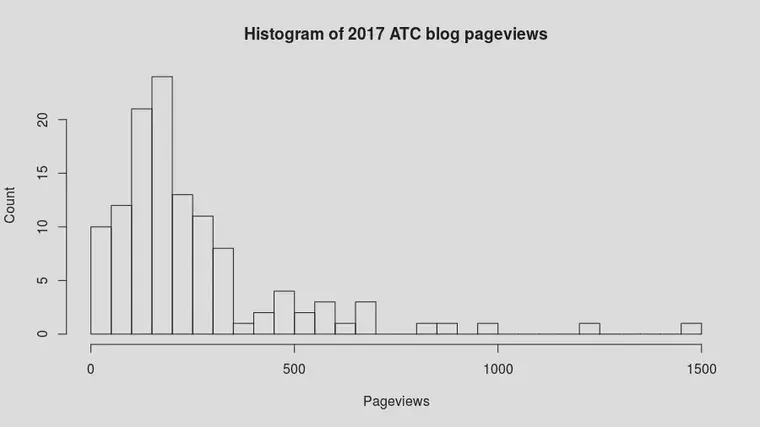 And then there are these ones that almost no one read. These are the 10 posts of 2017 that got the fewest views – all have had less than 62 views as of now. For the 2016 list, see here.
[10] December, Representing the distribution of a lot of numbers about histograms and soil test data.
[9] February, After 28 days, grow-in and salinity differences in the experiment I was preparing for the field day at the March conference in Thailand.
[8] May, A post-conference assortment after the Philippine Golf Course Management Conference, including the Purdue University sand calculator.
[7] February, MLSN and GP presentation slides from the Golf Industry Show with the slides for half-day seminar on that topic by Jason Haines and Larry Stowell.
[6] July, New RSS feed and blog subscription by e-mail in which I provided the subscription information for the new blog.
[5] May, Turfgrass roundup: April 2017 including Asia's best kept golf secret, a long conversation about not applying Ca, a fascinating 1,200 year cherry blossom time series, football and golf, etc.
[4] July, The ATC blog has moved describes the reason for the new blog and reprints the first post from eight years ago.
[3] February, Shiba yaki ceremony 2017 with a video of the annual grass burning ceremony at Korakuen in Okayama.
[2] April, Eight years of visits to this site by device – desktop, mobile, or tablet in which mobile visits are now up to 59%, visits from tablets dropped to 8%, and desktops (computer) sent 33%.
[1] January, Woodball, with photos and a video of a game that is similar to Park Golf but involves a gate rather than a hole.
Coming up later this month, I'll share the 10 posts that got the most pageviews this year.