The least enjoyable experiment ever
I usually enjoy doing experiments. But there's one that I helped out with as a graduate student that wasn't any fun at all. Dr. Frank Rossi wrote about this in Effects of microbial and organic products on putting green performance.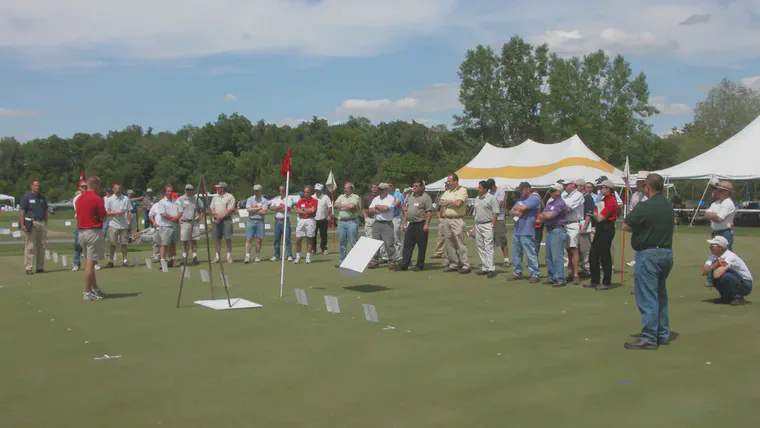 What was so miserable about this particular experiment? For me, it was measuring out and mixing together all the different products. I didn't do the applications, or the ratings, but I did spend a lot of time in the first year or two of graduate school measuring out the exact amounts of products to be applied in each of these programs. One company's program had 7 products to mix together. Another had 15 products in total, with 4 applied weekly, 7 applied as a "soil spray" every 2 weeks, and if the high temperature was 90 °F (32 °C) or above, an extra 4 products got added in. Let's just say it took hours of meticulous measuring to prepare all these mixtures.
The easiest one was urea, monoammonium phosphate (MAP), potassium sulfate (K2SO4), and ferrous sulfate (FeSO4). Knowing what we know now about that soil, the P and K could have been skipped from almost all those weekly treatments—maybe Fe too—but at the time it seemed a reasonable thing to add them all.
On the topic of urea fertilizer, I discussed how it works with golf course superintendent Andrew McDaniel
in this video
. I've also demonstrated that at a relatively high application rate—for example what I show in
this 1 minute video
is double the application rate used in Dr. Rossi's experiment—prilled ag grade urea dissolves rapidly.
That urea-based treatment, which Dr. Rossi refers to as the "traditional fertilizer program", performed well in this experiment. Over the three years of the study, there was only one treatment that placed in the top statistical turf quality group on more sampling dates.
Looking at the quality ratings for this experiment in the chart below, it can be difficult to pick out how the treatments compare to each other. There are changes by time, and there are a lot of intersecting lines, and variability and correlation that make it difficult to summarize.
What I have done is taken the data from Tables I, J, and K in the supplementary information of the GCM article, which had the mean quality rating for each fertilizer program and the least significant difference (LSD) at each measurement date in 2003, 2004, and 2005. Then I calculated how many times each treatment was in the top statistical group. That is, I added up the number of measurement dates at which there was no significant difference between the highest quality program at that date, and between the treatment in question.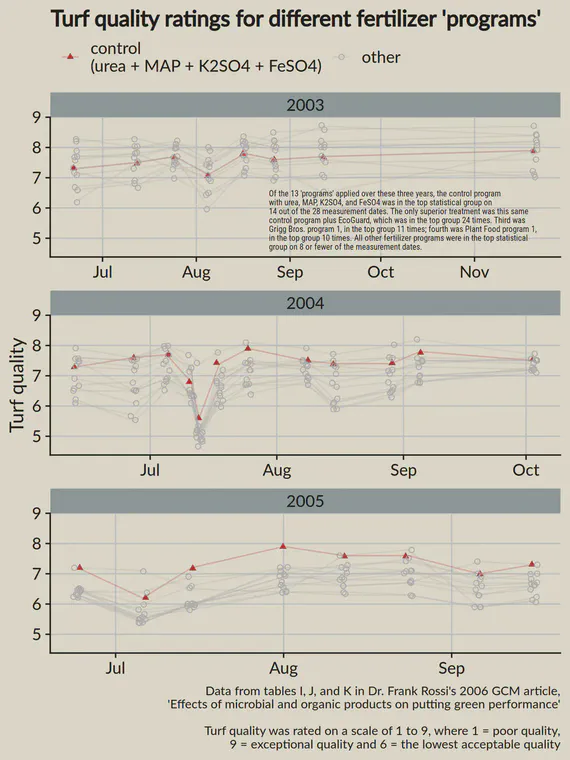 It turns out that Dr. Rossi's "traditional fertilizer program" was in the top statistical group on 14 of 28 dates. Half the time, this treatment based on urea was at the top or was not different from the best treatments at that time. There was only one program that did better. It was the same traditional program as the base, with EcoGuard added.
And that program with 15 products, a soil spray, and temperature-dependent product variations? It finished in the top statistical group on 5 out of 28 measurement dates. All that time spent measuring out those products, to have that program in the top group only 18% of the time.
But there were so many like that. Six, seven, eight different products mixed together and then applied, but not performing any better than the urea-based "traditional" program. I got to see this every day I was out at the research farm, because the plots for this experiment were right next to mine.