Tournament diary: KBC Augusta 2023
The 50th KBC Augusta tournament was played from August 24 to 27 at Keya Golf Club in Fukuoka, Japan. This was my ninth KBC Augusta tournament, and during each of these tournaments I've shared photos, ideas, and measurements related to the course maintenance work. I did that again at this year's tournament, with a daily thread on X (formerly known as Twitter). I'm writing this up all in one place as a tournament diary—I know you all don't follow those threads, and I can keep the highlights here where I can more easily find them.
I had arrived at the course the previous day, and got my measuring tools all ready and made an initial set of measurements on Saturday afternoon.
Keya's course superintendent (and assistant general manager) Andrew McDaniel and I had our traditional pre-tournament lunch at the Natty Dread jerk chicken shop.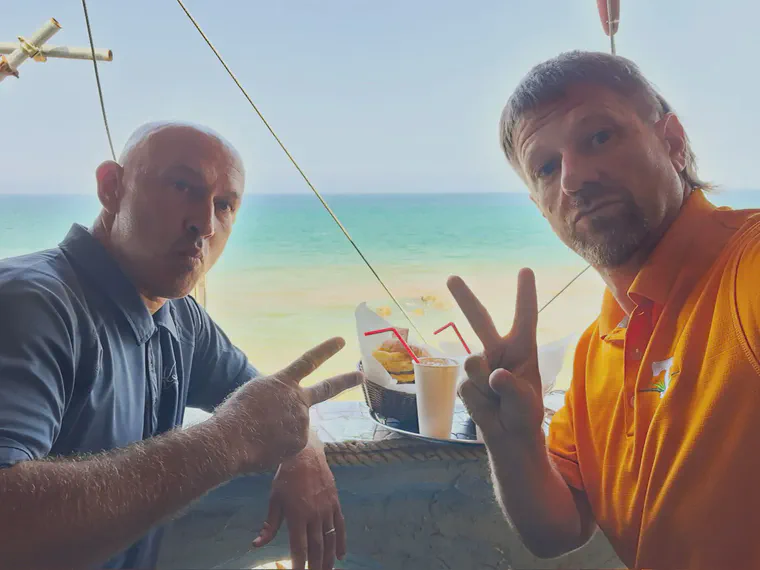 The clipping volume was high in August coming into the tournament. The average from a single cut this morning was 24 mL/m2. For comparison, the single cut on pre-tournament Sunday last year, in 2022, has a clipping volume of 10 mL/m2. Why was there so much more growth in 2023? I noted that:
There's way more growth in 2023 because of cultivation, sand topdressing, more N fertilizer, & higher mowing heights from mid-June until mid-August this year. For various reasons (mainly surface conditions, OM246 data), we decided to put more sand and grow more grass this year.
I also made this short video that shows crunchy zoysia greens.
There was no rain overnight, but the average soil water content went up by 1.1%.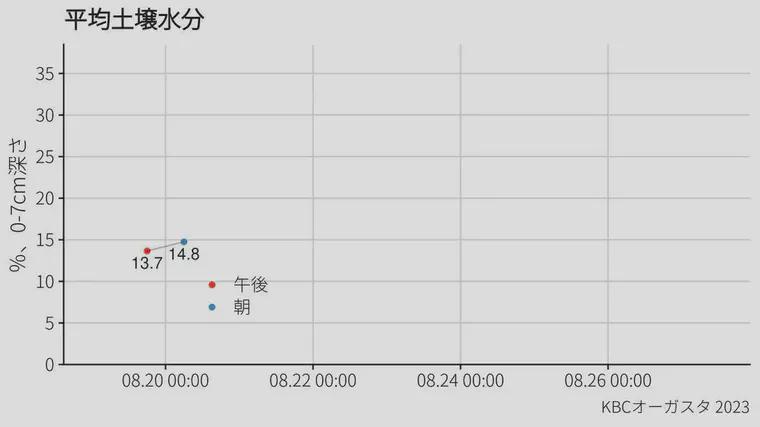 This is the soil water content, which went up 1.1 mm (if I assume this is constant through the top 10 cm) from last night to this morning. There were 7 minutes of irrigation to the greens overnight.
I brought my camera around on this day and shot a bunch of videos. I edited them together into this practice round greenkeeping video.
The putting green cups were set this morning, and I made sure to be there to get some photos of the layers in the green. Not all the greens at Keya GC have such an impressive soil layer, but some do.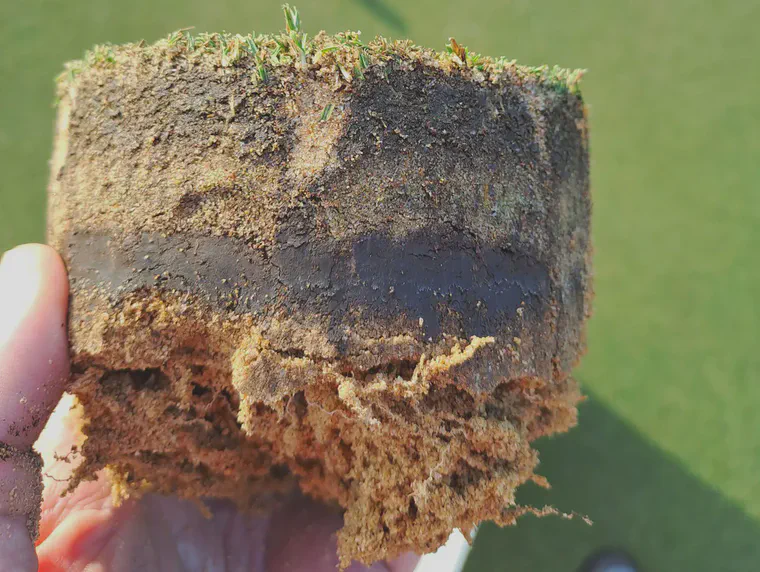 The greens got their first double cut of the week. I showed the results in this video—the average was 36 mL/m2 from the doublecut.
It's difficult to get fast green speeds on korai in the summer, especially when it is growing at this rate. It was no surprise, then, to measure the green speeds a little lower than what they were in 2022, when the clipping volume was considerably lower.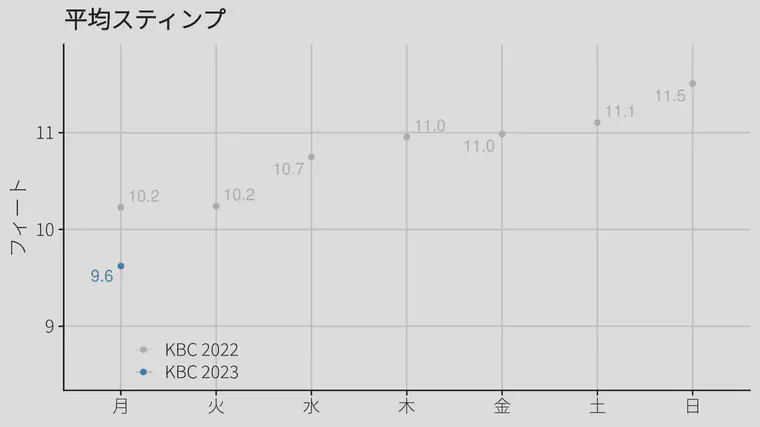 Oh, that chart is in Japanese. Translation: the x-axis labels are days of the week, starting at Monday (of tournament week) at left and moving to Sunday at right. I update the chart every morning. Average stimpmeter measurement in feet is on the y-axis.
The greens are also getting their first afternoon mow, with a triplex. With the morning double cuts and the afternoon triplex single cuts, I expect the #ClipVol to decrease as the week goes on.
I showed how I make a stimpmeter measurement and bobble test at the same locations each day by marking the spots with a small green dot.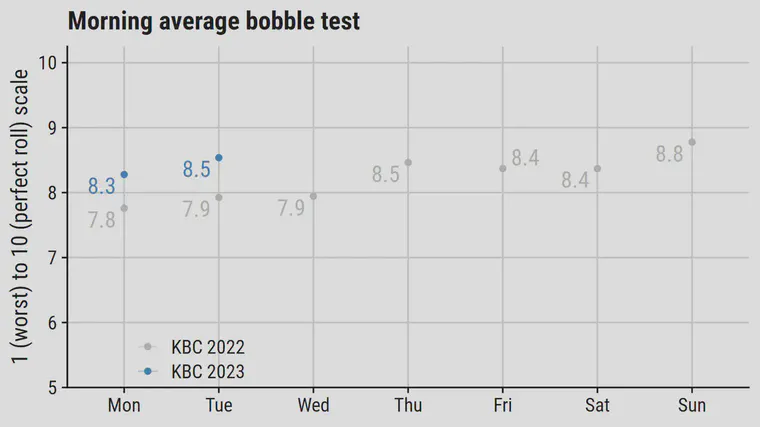 One of the objectives after last year's tournament was to try to get smoother and truer ball roll this year. That's a primary reason for the extra cultivation and sand that these greens got in June and July. I measure #BobbleTest at the same locations each day.
In the morning I send @drumcturf a simple summary chart that shows the average condition after the morning work. In the afternoon, I send him a slightly different chart, one that shows both the morning average and the average measurement at the end of play.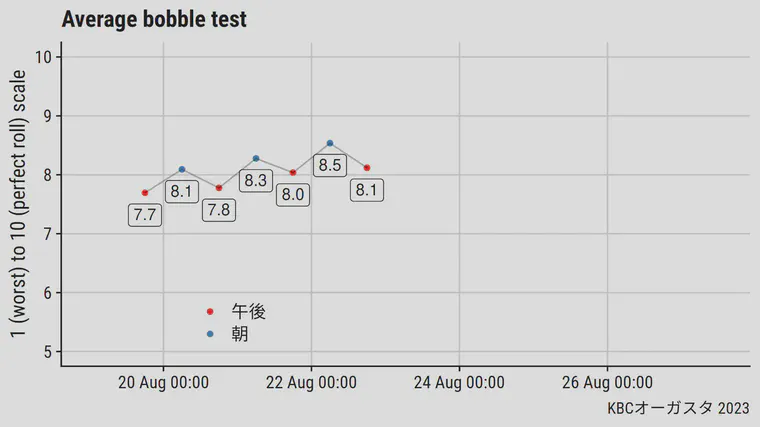 One more crunchy walk across a korai green. When leaves are this stiff & upright (thus the crunch), the #clipvol can be substantial. Can you hear this type of crunching sound when walking on bent, Poa, fescue, or bermuda greens that have 100% grass cover and that aren't wilting? pic.twitter.com/UWYO9H2mRy

— Micah Woods (@asianturfgrass) August 23, 2023
I went out to a relatively quiet location, the 13th green, in the morning, and recorded the crunching sound of walking across the korai greens.
After three days of morning double cuts, and after Monday and Tuesday afternoon single cuts with a triplex, the clipping volume was going down, as expected.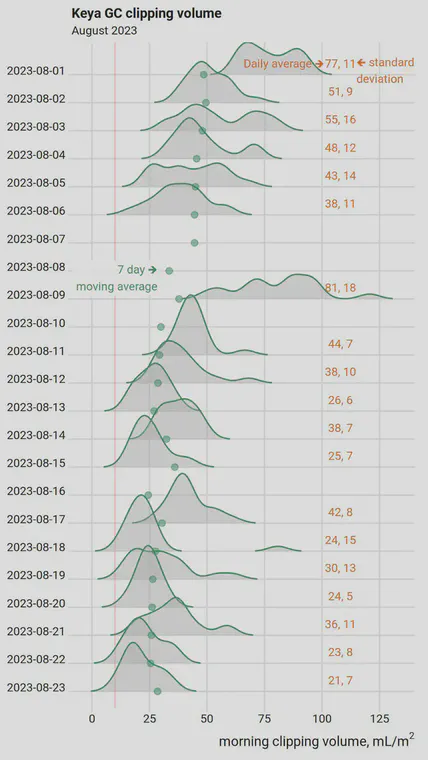 The average for Wednesday of tournament week was 21 mL/m2. That, from a double cut, was less than the 24 mL/m2 collected from a single cut just three days before.
The tournament got underway, and I recorded an ATC Doublecut with Andrew in which we discussed green firmness and the 4 ton roller than had been used on the greens.
We also talked about greens rolling. Here's one view of the 4 ton roller. https://t.co/ROvV8MQuQG

— Micah Woods (@asianturfgrass) August 24, 2023
The weather this week was consistent from day to day, for the most part. There were no rains significant enough to cause washouts, work adjustments, or play delays. The measurements I was getting were as expected. Thus, there was time to watch some golf, and to make a video of Thursday morning greenkeeping work.
The clipping volume from the morning double cut was down to 16 mL/m2.
Andrew explained about the 4 ton roller.
I took a look at greenkeeping work prior to the third round.
One of the nice technologies used to stay cool when working in these summer conditions is a fan vest.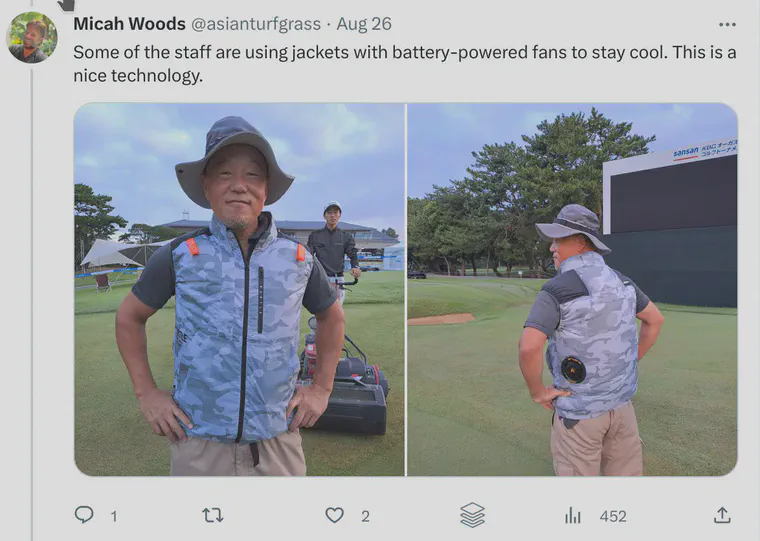 The green speed by this time in the week was up to more than 10 feet.
Average green speed this morning was 10.3 feet. That's the same as yesterday. I like to record ball roll distance in cm. That's better than half inch precision, and I am going to express as decimal feet anyway, so recording in cm is both precise and convenient. #TurfHacks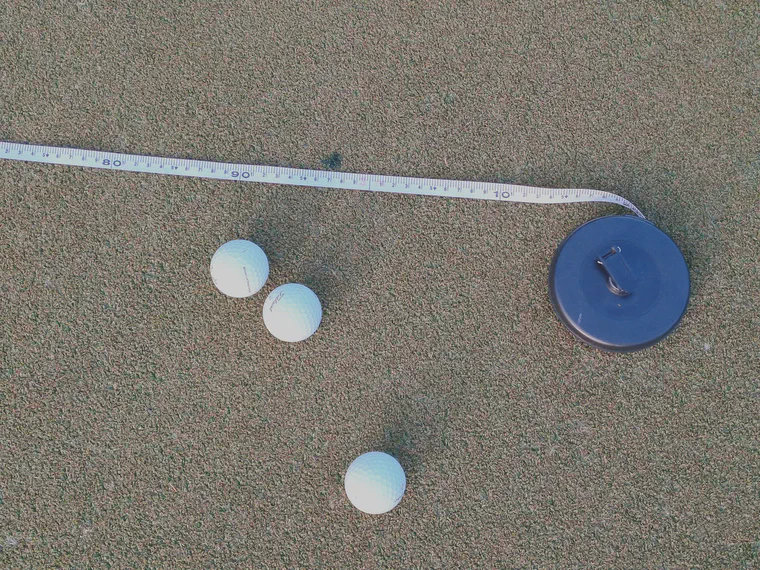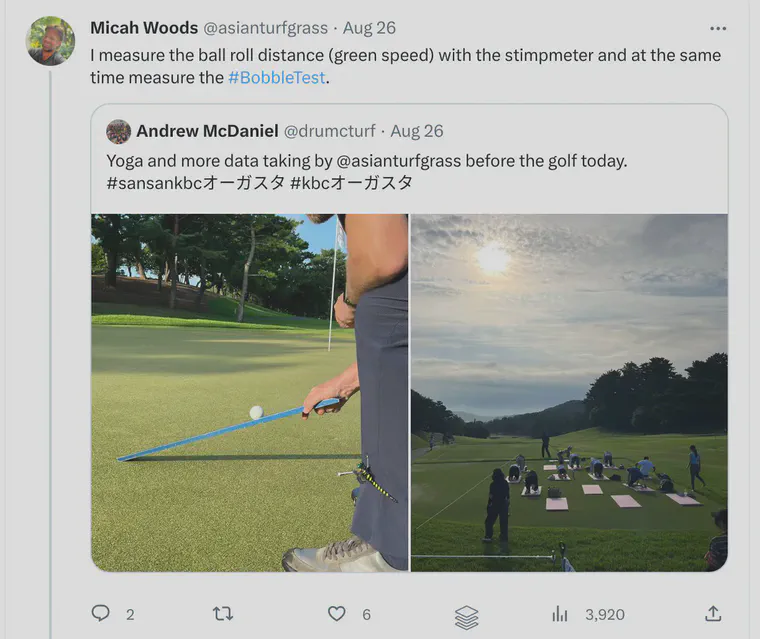 Here's average morning (blue) & afternoon (red) #BobbleTest from last Saturday through this morning. I've been impressed at the consistent drop from morning to afternoon, even with a full field (147 players plus their caddies) putting pitch marks and traffic on the greens.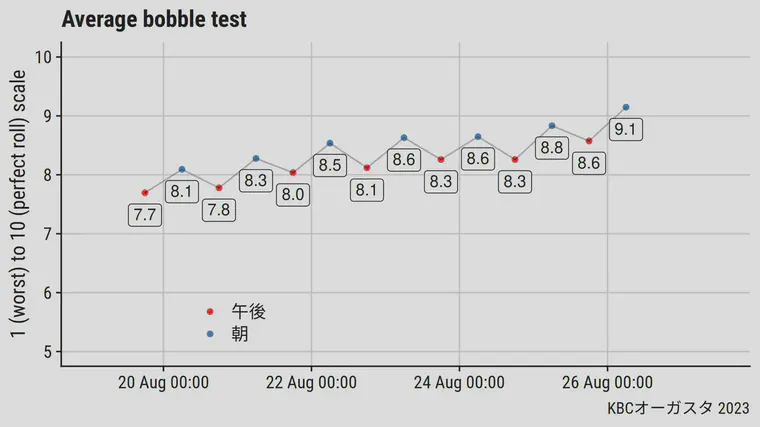 The green firmness was up to more than 100 on the Clegg for the first time this week.
This is the Clegg data. A bit softer than last year, which was expected after cultivation this summer, and no cultivation in 2021 or 2022.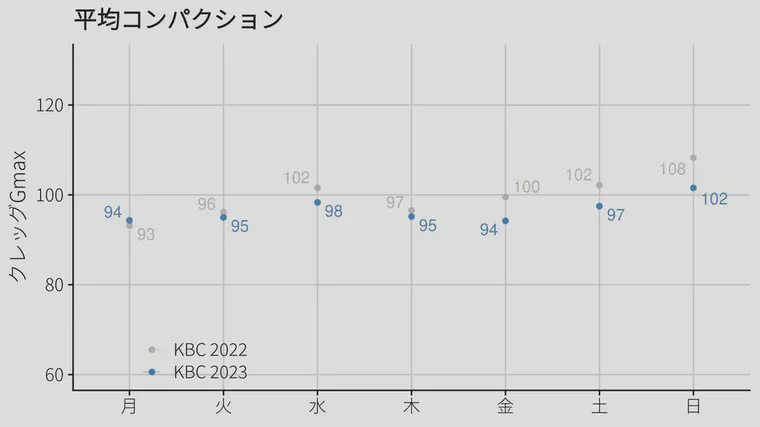 We'd had a bbq at the shop the night before, and I recorded an ATC Doublecut too, including an on-course segment discussing the tournament and course preparation and conditions up to that point.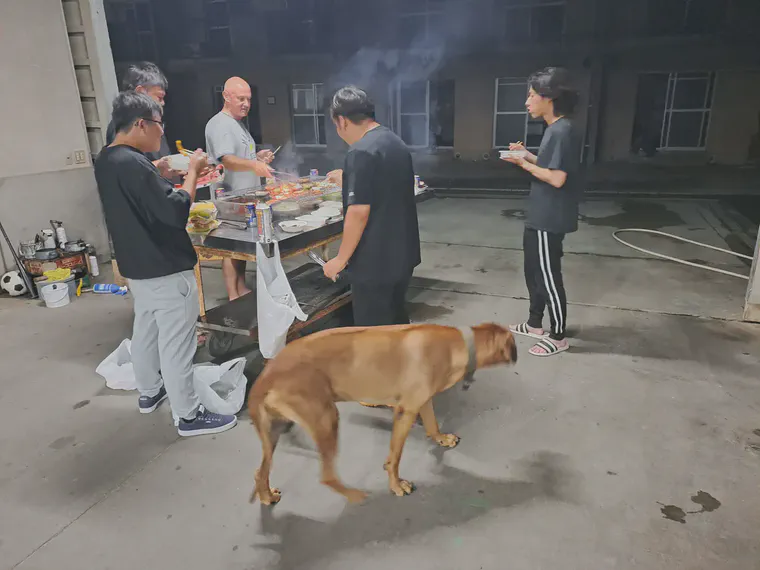 The tournament had an exciting finish, I heard. I was out on the course collecting data, so I did not see it. I completed my last measurements in time to get to the 18th green for a photo with the maintenance crew and the 2023 champion, Young-Han Song, who finished at -17.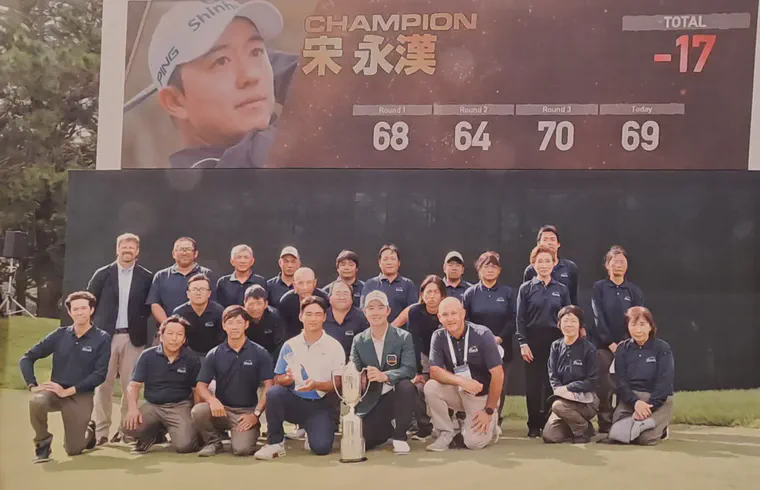 ---
It was a great week. That was my ninth time to work at the KBC Augusta tournament, and this year was the best one for weather.
After collecting these data for nine tournaments, the results tend to be predictable. Last year's bobble test scores were lower than we wanted. To try to improve those, the Keya maintenance crew cored and deep-tined the greens in June, along with a verticut and a sand topdress. In July, the greens were verticut and topdressed again. In total, 2.7 mm of sand were applied prior to the tournament this year. That's about three times more than usual.
Compared with 2022 measurements, the greens were softer this year because of the cultivation. The greens were slower this year because of the increased growth necessary in 2023 to grow through all that sand. The greens were smoother this year because of the increased growth (and perhaps because of the increased sand).
I recommend this type of regular data collection for every golf course. It's not just for tournaments. Sure, the measurements may get made a bit more often during tournaments. But having this record of results can be remarkably useful. We were able to get better quality roll on the greens in 2023 by making some changes based on the 2022 results. The 2022 measurements were also used to communicate the need to do more instensive cultivation and topdressing work in 2023.