A non-comprehensive list of awesome turfgrass things other people did in 2021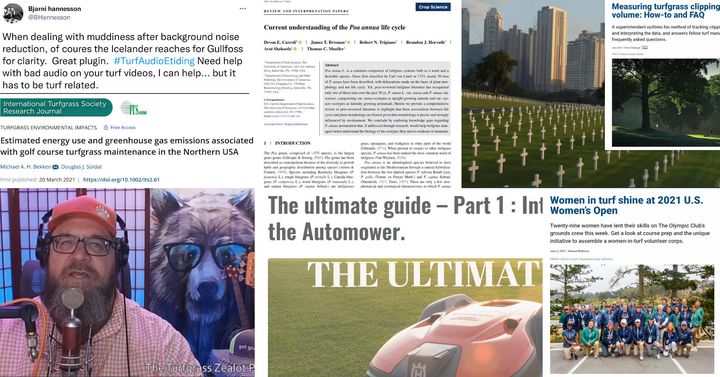 This is exactly what the title states. It's a few things off the top of my head, and a few things I jotted down over the course of the year. All together, it turns out to be a lot of awesome reading and watching and contemplating material.
---
GK Erwan's ultimate guide to the automower is just that.
Devon Carroll's review article about Poa annua is superb. This grass appears not to be an annual at all.
UT Turfgrass in general are doing all kinds of awesome things.
Charlie Goode shared the kind of turfgrass archaeology photo that one can study for a long time. Do I see a Huesgen layer there?
Bjarni Hannesson helped me out numerous times with some really poor original audio. And he offers his audio engineering expertise to anyone in the industry. "Need help with bad audio on your turf videos," he says, "I can help. But it has to be turf related."
When dealing with muddiness after background noise reduction, of coures the Icelander reaches for Gullfoss for clarity. Great plugin. #TurfAudioEtiding Need help with bad audio on your turf videos, I can help... but it has to be turf related. pic.twitter.com/eTXaQcStyj

— Bjarni hannesson (@BHannesson) August 20, 2021
I read two superb articles by Michael Bekken this year.
One on golf course pesticide risk, and another about energy use and greenhouse gas emissions associated with golf course turfgrass maintenance.
This is not about golf. It's much more important than that, but it also has some amazing turfgrass. The American Battle Monuments Commission (ABMC) made a series of videos about their cemeteries and memorials around the world.
Dave Wilber got The Turfgrass Zealot channel going with a number of interesting livestreams this year.
The link I have is broken already, but remember the ladies from Accordia Golf volunteering at the Olympics and cutting cups? That was awesome.
This link is still live, about women in turf shining at the Olympic Club.
Greens Pro/Midlife made some great stuff last year. I especially liked the "I'm up" video.
New Series - "So, You Wanna Be a Sales Guy?" - Episode #1 Combo Products. Thank you @RustyStack for the inspiration. Time to move on from @OuncesPerAcre..lot of phone calls each day in the #silverado pic.twitter.com/Cfn639HKTV

— Paul B. Hurst (@GreensPro) August 14, 2021
Andrew McDaniel's lawn is so impressive that it makes the awesome list for another year.
I've got the best home lawn in our neighborhood..... #notraffic pic.twitter.com/UUZtSvJlYt

— Andrew McDaniel (@drumcturf) March 12, 2021
Chris Tritabaugh had a couple really good articles this year. Remember the awesome one about clipping volume from GCM? How about his Stimpmeter Love Story?
---
This awesome list idea is based on Jeff Leek's non-comprehensive awesome lists from Simply Statistics.
My list is obviously non-comprehensive, and I would like to go on and on but there is only so much time. You can see posts tagged awesome for more awesome lists from previous years.